Brisbane's property market leading the nation
BRISBANE is leading the country in all four property performance indicators for the first time in more than a decade – defying the downturn seen elsewhere. SEE BEST PERFORMING SUBURBS
ELIZABETH TILLEY
The Courier-Mail
AUGUST 14, 20185:02PM
the Brisbane housing market is bucking the downward trend seen in other states. Picture: Richard WalkerSource:News Corp Australia
BRISBANE is leading the nation in all four property performance indicators for the first time in more than a decade — defying the downturn gripping the other mainland capital cities.
New figures show Brisbane is the only capital city to record an increase in home values over the past week, month, year-to-date and 12 months.
The last time the Queensland capital did that was back in 2007 before the Global Financial Crisis.
While home values in the other mainland capital cities headed south, houses and units in Brisbane gained a third of a per cent in value in the past 28 days, according to property researcher CoreLogic.
Home values in Brisbane are still growing despite falling prices in other capital cities. Picture: Richard Walker.Source:News Corp Australia
GET THE LATEST REAL ESTATE NEWS DIRECT TO YOUR INBOX HERE
Compared to the same time last year, Brisbane home values are 1.2 per cent higher.
The only other capital city to record growth in the past month was Adelaide, where home values inched just 0.1 per cent higher.
The housing downturn is gathering pace in Sydney where values have fallen half a per cent in the past 28 days and are down 5.6 per cent compared to the same time last year.
The Melbourne market is also coming off the boil with home values declining nearly 1 per cent in the past month and 1.1 per cent over the past year.
Capital city home value changes. The monthly change is the change over the past 28 days. Source: CoreLogic.Source:Supplied
CoreLogic senior research analyst Cameron Kusher said Brisbane was continuing to record "moderate growth" while the other mainland capitals were slowing.
"The rate of growth in Brisbane is generally slower than it was a year ago, but when you look at migration to Queensland picking up and what's happening in Sydney and Melbourne, it's no real surprise that Brisbane is holding up better," Mr Kusher said.
He said it was likely Brisbane could experience an acceleration in home value growth thanks to increasing migration, an improving local economy and its relative affordability.
But not to the extent seen in Hobart, Sydney and Melbourne in the past.
"I think you'll see pretty steady growth in the next year or two," he said.
FROM UGLY DUCKLING TO SWAN
Unit values in the Brisbane riverside suburb of Tennyson have jumped a whopping 45 per cent in the past year, while Hamilton houses have been the best performers — up nearly 27 per cent in 12 months.
"Generally speaking, it's the inner city and parts of Logan that doing well in terms of growth," Mr Kusher said.
"The higher value stock in the inner city is probably attractive to Sydney and Melbourne buyers, and then the growth in Logan City is probably linked to strong first home buyer demand and affordable housing stock."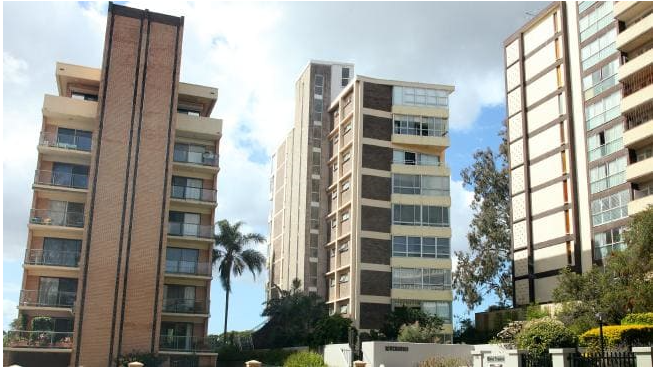 Unit values in Brisbane are growing, despite oversupply concerns. Photo: Liam Kidston.Source:News Limited
Hobart — which is currently the strongest performing market — was not included in the CoreLogic figures, but Mr Kusher said even it was showing signs of growth slowing.
Propertyology head of research and buyer's agent Simon Pressley said Brisbane's property market could be performing a lot better, but the local economy was letting the city down.
"Brisbane has some good property market fundamentals, but we have to go way back to
2007 to find the last time that its property market produced double-digit price growth," Mr Pressley said.
"Coincidentally, that's also the year that Peter Beattie retired from his post as state premier."
Mr Pressley said Brisbane lacked significant attractions to draw both national and international visitors, who generally headed straight to the Gold or Sunshine Coast as soon as they arrived.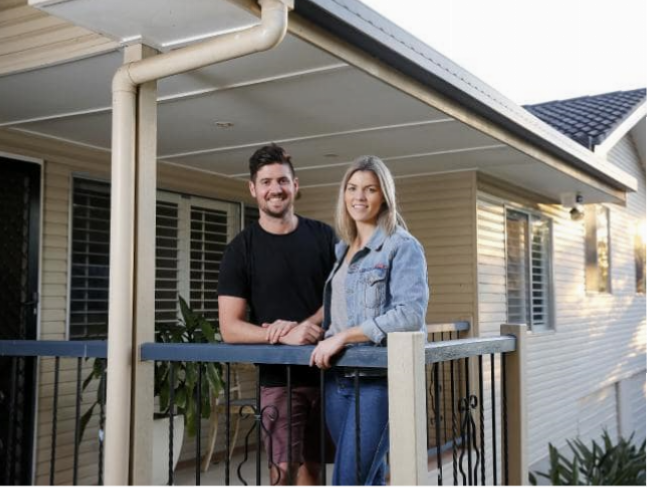 Paul James and Madeline Cant at their new Rochedale home. Picture: AAP Image/Josh WoningSource:News Limited
DEMAND FOR BEACHFRONT HOMES SURGES
Brisbane couple Paul James, 29, and Maddie Cant, 30, have just bought their first home in Rochedale, which has been experiencing strong growth in home values.
Mr James said they had been looking for a while and considered themselves lucky to get a three-bedroom house for $530,000 in the suburb.
"It's a nice area — a growing area, and it's affordable," he said.
Selling agent Skye Dutson of Place – Sunnybank said prices in the Rochedale and Rochedale South area had tapered off slightly, but values were still growing in Rochedale South and open homes were still attracting strong numbers.
"Rochedale South is only 20 minutes from the city and you're still paying affordable prices," Mrs Dutson said.
"If you wanted to be as close to the city in Sydney and Melbourne, you're paying millions of dollars.
"I think buyers are taking their time a bit more and just being a little bit more patient."
Home value growth in Brisbane is higher than other mainland capital cities. Image: AAP/Glenn Hunt.Source:AAP
In the inner-city suburb of Grange, Helder and Saori Peguicha have just listed their house at 37 Howard Street and are confident it will attract strong interest and a good price based on the capital growth it has achieved.
"With the amount of infrastructure projects on the horizon, I think Brisbane will attract a lot of people for work, so I think there is potential for more growth still," Mr Peguicha said.
Craig Lea of McGrath Estate Agents – Wilston, who is marketing the property, said he wasn't surprised Brisbane home values were defying the downturn plaguing other states.
"There's all this doom and gloom discussion on the basis of Sydney and Melbourne's protracting market, but that was to be expected," Mr Lea said.
"Brisbane's always been a slow boil.
"We're seeing a lot of migration from the southern states, particularly from expats."
BRISBANE'S BEST PERFORMING SUBURBS
Suburb Property type Median price Median price change in past 12 mths
Tennyson Unit $1.2m 45%
Rochedale Unit $685,000 35.6%
Hamilton House $1.4985m 26.7%
Sandgate House $732,500 22.1%
Wilston Unit $507,250 20.3%
Bardon Unit $655,000 19.1%
Northgate Unit $417,000 18.3%
Sunnybank House $850,000 17.1%
Seven Hills House $950,000 16.9%
Kangaroo Point House $1.0225m 16.9%
(Source: CoreLogic)